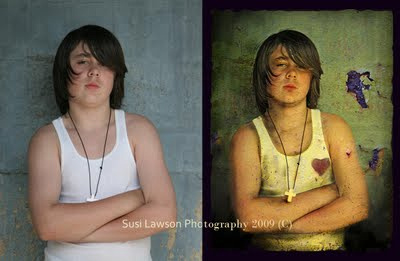 I do apologize for all the delays with this latest DVD! I have been very busy with local work and do not want to rush the lessons, but feel sure this can be released in time for Christmas!
I just completed this lesson on Texture layering which was quite fun to do. Texture layering is very popular right now so wanted to include a few videos on this style of editing for those who are interested. It is not as hard as you may think , but does require the right texture imagery and proper attention to final details to really create the impact you want. Other lessons will be on creating your own custom brushes for hair, skin, rain etc.
Vintage look, airbrushing, creative backgrounds and more!