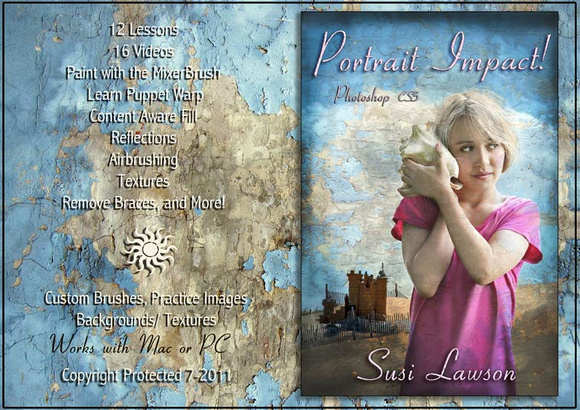 Portrait Impact!
My latest DVD release was in 2011 and was created for Adobe Photoshop CS5. You can also use CS6
There are 16 videos and some awesome instruction in Painting with the Mixer Brush! If you have not used the Mixer Brush you will love discovering how easy it is to start painting!
I also teach how to change backgrounds and add texture and how to enhance portraits in many creative ways!
My teaching style is very straight forward and easy to understand. I do not use a lot of short cuts and High Tech words that you have never heard before. So, my videos are great for any level as there is something to learn from the beginner to advanced intermediate.
I have included all the resource images to use for practice and I have also included a lot of textures and backgrounds to use on any of your images. I also have included free brushes with a lesson on how to create them!
Just click on the PayPal link below to order. These videos work with either Mac or PC, as they are quicktime DVD Format.
Please choose the proper country for shipping by using the drop down menu.
Reviews:

"I want to tell you how much I enjoy your videos. I especially like listening to your comments as you skillfully glide through your tutorials. Very soon I hope to retire and then I will be spending more time trying to master the techniques that you made seem so easy. I have photos of my grandchildren that I would like to use while I watch your videos. I'm an amateur at photography and Photoshop, but I love to try new techniques."
Julie Coulhoun
"Susi's editing secrets are not a secret anymore! Susi has a wonderful way of sharing her editing techniques that make it so easy to follow along and duplicate! Her style of painting hair and airbrushing is unique to her and the only way to learn is by getting her videos. I highly recommend every one of them! Thank you Susi!!"
Hillary Walker