I just want to thank my 'Little Neighbor Bud' who has been a driving force in my photography for 14 years ! Little Cassa Marie Smith started modeling for me when she was only 4 years old. I was driving around the corner of my block when I saw this adorable little tow headed children playing in the golden leaves of a beautiful tree behind my neighbors house. It was such a joyful sight that I pulled over in my red Cherokee Jeep (which I drove at the time ) and asked little Cassa if she would run and ask her Mom if I could take some pictures of her and her brother. Cassa has 3 brothers , Micheal, John and Chris. (Chris was sick at the time and inside ) Cassa's Mom came out of her house (which was right across the street from the tree ) and she said "Oh! You're that artist ,I heard about ,that lives around the corner ain't you " I said "Yes, that's me". and she said she was scared at first, that some stranger would want to take pix of her kids, but she said she knew I was a photographer and she would be glad to give me permission . She asked if she and her fella could also join in for a family picture. I said "Well , of course " and that is how it all began !
I still have the very first pictures I took of Cassa and her family (except for little Chris ) on that day . They are on an old computer , but I will come back later and post them here for you to see how much she has grown and how far we have come together !
My daughter was around ten years old , at the time, and of course I really wanted her to be my 'model' but she would have nothing to do with the idea~! Although I did actually get a cover with an image of my daughter that I took the day she got braces . It was snowing and she was covering her mouth and I snapped a pix of her! Funny how that snap shot won a contest and ended up on the cover of "Digital Photo" magazine. So I did manage to sneak in a few shots, over the years with my daughter and a few did win awards and a couple of covers !
Cassa was such a natural in front of the camera, and I think it was because I was not her Mom, that helped her to just be natural and enjoy the experience. I do think all children are more self conscious when their parent is behind the camera. This is especially true in pre adolescent age and into the teen years.

In the first 5 years or so , of photographing Cassa , so many people just fell in love with the timeless images of her and many remarked , how nostalgic they were. I think , the fact , that Cassa and her brothers ,reminded folks of the innocence of a childhood playing outside , climbing trees and such experiencing a simple , outdoorsy childhood which seems so rare during these new times .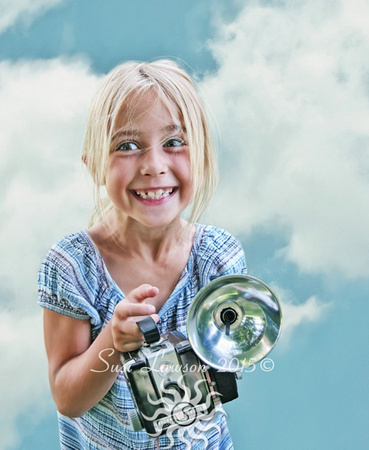 In 2007 when Cassa was around 8 years old , she was playing with an old Kodak 'Hawkeye' camera , just like the kind I played with as child . She was on my porch snapping and playing with the flash and having a grand old time watching the flash shoot across the yard. I snapped a picture of her looking at the back of the camera with a curious expression of "Where is the LCD?" Ha! I edited this picture in Photoshop adding a blue sky background . (which sort of became my signature look during those years ) and I entered that picture in the NAPP (National Association of Photoshop Professionals ) . My daughter came in the room just as I was about to hit the 'enter' button. ( she was 16 at the time ) and she said "That picture is going to win grand prize Momma!". I turned around and said "Do you really think so? This is an international contest and thousands of folks will be entering !" , she replied "I think that is the winner!" Yay ! Good vibes from my sweet daughter ! As I hit the 'send' button. I whispered "God send", and then went on about my life.
A few months later I got an email saying I had won the Grand prize , which was a trip to Rome , a thousand dollars and some gear ! I figured it was spam and so I deleted it. But the email kept coming and i was getting a lot of Phone calls from California that I did not answer , as I assumed it was a marketer .
Finally , when the nest email came, I answered by saying "Is this real?" and they replied "Yes, we have been trying to call you for like 6 times !" I was like "Okay, call me right now ." still not sure it was real. But when she called and said "Susi, all the judges just loved your picture "Little Hawkeye" and you are the grand prize winner !! I literally fell to the floor and tried not to cry!
I picked up my daughter from school and took her to 'Joey's Country Kitchen ' in Rural Retreat and as we were waiting for our food, I drew a map of Italy and an airplane on the napkin and scooted it over to her . I said "You were right about that picture I entered " . She looked at me with her mouth dropped and I jumped up and down and started dancing ! She said "Mother, please don't embarrass me." in true teen fashion ! HA!


The Photoshop User magazine sent us to Rome in July with a thousand to spend and asked me to submit a picture for the cover. I sent them a picture of my daughter. We had the most amazing time in Rome and we still wish we could go back and stay much longer ! A week was marvelous , but we did not want to go home so soon ! Its a trip and memory that will always be precious to my daughter and I!

After that big win, I started getting quite a following of folks in photography forums asking me to teach them Photoshop skills , such as the painting and background changing I was doing at the time. A photographer , by the name of Dave Harvey , who was a member of the 'Digital Image Cafe' , and whom had taken a liking to my work, called me and said "You need to be producing teaching DVD's !" I explained that I did not have a strong enough computer to carry the software needed to make screen videos. A week later , there was a huge box on my front porch! Not only did Dave build me a strong computer (which I still have ) but he loaded the software that I needed to make the teaching DVDs. There was a note that said " You owe me nothing , except to be the first person who gets your DVDs". Wow!! what a kind and generous man he was . (Dave unfortunately passed a couple years ago. He sent me a FB message days before saying "Be well, be happy'. ) I will never forget his kindness and Dave was a very talented portrait photographer , who taught me a lot about lenses and light and how there are no compromises with either. Thank you Dave! You were one of the best!

With my new DVD teaching Career I experienced , finally a comfortable income, and as a single mom, this was truly a god send. I helped put my daughter through college with the savings I put away and was able to give her everything she needed during those years . It was perfect timing !

Many folks still tell me they loved my "Norman Rockwell" images, which I always find extremely flattering , as he was my hero when I was a child looking through the Saturday Evening Post magazines . Cassa and her brothers, were the perfect subjects for this nostalgic 'look'

I recently took 18 year old Cassa , to my favorite place to take portraits , and that is the beautiful Reed Creek Farm, here in Wytheville, Va.
The farm is owned by Tom and Teresa Wassum and they are kind enough to allow me access to this 200 year old amazing location on the creek.
Here are some portraits taken of beautiful Cassa. (Click to see gallery )
Thanks so much Cassa , for all the wonderful years and your eagerness to participate in so many photo sessions and your natural charm and personality in front of the camera ! Love ya girl !