Your engagement is the beginning of your love story and needs to be told! So be sure not to overlook this important time & consider including this session in your wedding plans! It is easy to get consumed with those thoughts of the future, but it's important to remain in the 'present' and relish this exciting time before you become husband and wife. This is the time you will long remember as that special 'beginning' when you first met, fell in love and decided to promise one another a life time of devotion and loyalty. It is a time of innocence and sweetness and a transition into another world yet unknown.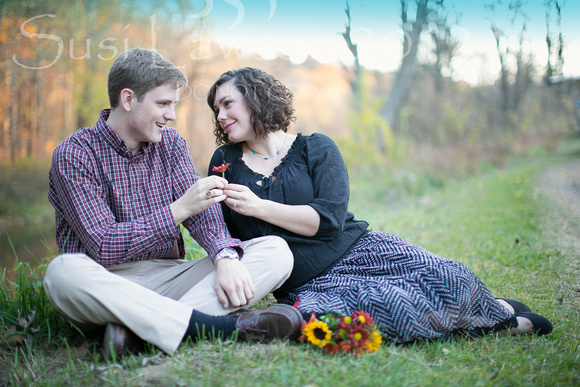 Planning an engagement session can be a fun way to tell this story, by choosing a location that is rich with meaning and sentimental feelings for you both. This is the first chapter in your life together and literally can be included in your wedding package book , along with your bridal and wedding images, you will have the story right there in pictures to share with your family, friends (and your children and grandchildren some day).
So, don't overlook the first part of your journey! Capture it with a professional Photography session that will include a creative fun session , pro editing, an online gallery and facebook images , along with a print package that is included in the package price.

This package includes: 1-11X14 and 2-8X10's. You may purchase more in your online gallery at any time. Galleries do not expire and may be shared with anyone.
My last engagement session was with Richard and Elizabeth and we had a such a fun time on Elizabeth's family farm just running around capturing some special loving moments between the two of them. Her Parents, Teresa & Tom were so helpful, getting the clothes, vintage truck and boat ready and waiting when I arrived! Their session included a fine art 'concept' shot inspired by the John Waterhouse painting "Lady of Shalot" I painted this and added it to their Fine Art Gallery for a canvas print..
You may view their main gallery here
Also, a special thanks to Teresa at Petals Florist of Wytheville, Va. for the beautiful flowers!
Note : There is a 3 month order window for your complimentary package, after that time you will need to purchase from the gallery.

Engagement Session Packages:
All packages include a Facebook Gallery and a smart phone app to view, share & order prints.
Our Love Package : 1 hour Session, pro editing and Package includes 1-11X14 and 2-8X10s
Fee: $250

Enduring Love Package: 2 hour Session, Pro editing, & print package of 2-11X14, 2-8X10s and 6-5X7's
Fee: $350.


Elizabeth's Testimony:
"The Pictures are amazing and we had so much fun! Your unique talent for capturing beautiful moments helped create photos that will tell our love story to our children, grandchildren, and beyond. Your relaxed attitude during the shoot allowed us to be comfortable being ourselves in front of the camera. Because we got to be 100% ourselves, you were able to take photos that are full of love, laughter, and authenticity. That was such a special night for the two of us, and getting to share those memories with you and my parents made it perfect! "