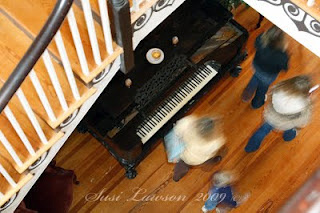 The "Seeds to Soul" Festival at the Fort Chiswell Mansion was a quirky blend of historic tours, homemade food, Pottery and stain glass artists, and some very talented musicians.
Even though the weather was grey and cold the mood was upbeat and lively. People mingled in the foyer of the mansion most of the day chatting and anticipating their turn to tour the beautifully restored home. Fireplaces were lit and candles flickered as the tour guide walked guests up warm wooden stairways and polished bedrooms so steeped in history you could almost feel the presence of the original occupants.
On the upper deck, musicians played their music back to back providing a pleasant back drop to the event. While I was there I heard a blend of folk, jazz and and upbeat young country. The music was so impressive I found myself running up the stairs several times for pictures of the musicians and a chance to enjoy the music first hand.
There was not a lot of food choices, but this was not a problem. Food was provided by the owners other venture "Key Ingredients" and was a healthy delicious meal of Beef stew in a bread bowl with bread pudding as desert. As the name of the event suggest, owner Chris Disibbio only believes in eating and providing food which is organic, wholesome and nourishes the body and soul. This is why you will not find sodas at any of his events, as he will not engage in contributing to the ill health of anyone. Simple pure water was provided for all.
What I enjoyed the most about this event was the sense of community spirit that prevailed. There was a real feeling of pride to be standing on the grounds of such a noble and historic building. Many of us have passed this beautiful mansion on the way to the outlet Mall or spotted it through the tall pine trees off interstate and wondered what secrets such a grand gentleman of a house might hold. Now, thanks to Chris Disibbio and his personal vision, we can now stand on the rich soil of our ancestors and listen in awe to their stories and to feel connected not just to our past, but to one another. After all, a community is really just a very large and endearing family and it is nice to have the opportunity to get together.