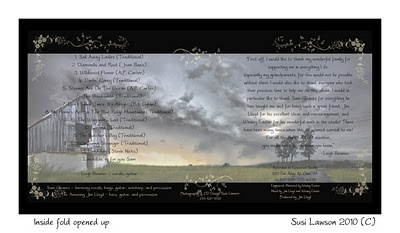 "Reflections of Me" by Leigh Beamer!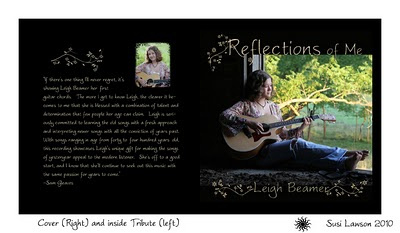 Leigh Beamer's new music CD is now released !
I was fortunate to have the opportunity to take the Photography and design her CD for her, which was really a lot of fun! It is wonderful to work with an artist who knew what she wanted and so it was great to collaborate with her every step of the way. She even chose the font I used, which we found on the internet and it works perfectly with the 'feeling' of the whole design.
The front cover location was suggested by her Mom , Stacey and we arrived at this barn just as the sun was setting and a optimum time for the best light! Leigh was great to photograph , as her portraits came out with a mood of sensitivity and poetic thoughtfulness..much like her voice!
We were not sure what to add to the back cover , but Leigh knew she wanted a tree. Then one day she texted me and said "I know where the tree is!" and so we rode out to her Aunts beautiful farm land there was the tree and yes, it was just what the back cover needed!
The inside fold out, I knew this needed to be a fade out in order to see the text on top and not obscure the notes. I suggested a scenic combination of one of her portraits from the barn, the tree line from her Aunts Property and a road suggesting her journey to making this beautiful music CD and where else this may take her, and she agreed. I think it captures how much music means to her in many ways.
This CD was produced by the amazing Jim Lloyd of Rural Retreat , Virginia. A fine musician and Barber. He also plays bass, guitar and percussion on the CD. Leigh's first guitar teacher , mentor and friend , Sam Gleaves, contributes vocal harmony, banjo, guitar, autoharp and percussion. So, some excellent accompaniment!
The CD was recorded at Eastwood Studios in Cana, Va.
The song list is bound to please people of all ages ! I know some of my personal fav's from the 60's are on there! When I get my copy I will come back and let ya know how I liked it! I am quite sure I will be raving! :)
I have heard Leigh , Sam and Jim in live concerts and so I guarantee this CD will be a treat!
If there are any musicians in need of Photography and CD design please get in touch with me via facebook or my web site.
You can purchase songs from this CD by going to CD Baby right now! So what ya waiting for??